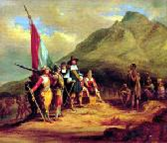 The name Tyler originated in England around 1246 AD. At that time the name was spelled Tiler because these persons were floor tilers.
   The Tyler family came from Sussex England.
 Isaac Barnett Tyler was born in 1831 in Madison Co.Va and died 1880. Isaac married Mary L. Green on Feburary 4 , 1856. Mary died in 1860 and she was born in 1830. Isaac and Mary had John Henry Tyler born in Nicholas County WV in what is now Webster County. John Henry was born in 1858 and died in 1936.Mary died and Isaac married Martha Lucinda Holcomb. Martha was born in 1837 and died in 1931. Isaac and Martha were married September 15, 1863 in Glade ,Webster County ,WV.Isaac and Marthas' children were Morgan Wesley Tyler born 1865 and died in 1938. Margret Tyler born in 1866. Susanna Cathrine Tyler born 1869 and died in 1957.George R. Tyler born in 1872 and died in 1952. Isaac Samuel Tyler born 1876 and died in 1880 . He was buried at Arcolea, Webster County, WV. Isaac's father was William B, Tyler born in 1795 and died in 1834 in Madison Co. Va. Isaac served in the Confederate Calvary with the 46th and the 26th regement company A .The 26th cav was about wiped out so they combined with the 46th.
   Isaac's parents were William Barnett Tyler and Catherine Adkisson. Willam married Cathrine Adkison July 17,1822. William was born 1795 and died 1834 in Madison County,Va.
.
     .William B.Tylers' father was Charles Tyler Jr. and his mother was Nancy Bowe Tyler.Charles Tyler Jr. was born 1768 Hanover County Va.and died in 1853 in Hanover County,Va. Nancy Bowe Tyler was born in 1781 and died in 1865. Charles Tyler Jr. father was Charles Tyler Sr. he was born in 1715 and died in 1768. Charles Tyler Sr. married Anne Hereford. She was born in Fairfax County,Va. British Crown Colony of Virginia in 1721 and died in Truro Parish, Fairfax Va in 1768. The father of Charles Tyler Sr. was Charles Tyler II . Charles Tyler II was born 1690 in Westmoreland,Va and died 1726 in Stafford,Va. Charles Tyler II maried Susannah Moore . Susannah Moore Tyler was born in 1695 and died in 1752. The father of Charles Tyler II was Henry John Tyler born in 1604 and died in 1672. He married Anne Armstead. She was born in 1628 and died in 1679. The father of Henry John Tyler was Laurence Tyler Jr. Laurence was born in 1593 and died 1663. Laurence married Dorothea Joan Tyler . She was born 1595 and died on 2 April 1663
     .
   .