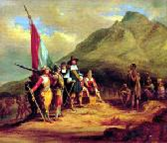 The name Tyler originated in England around 1246 AD. At that time the name was spelled Tiler because these persons were floor tilers.
   The Tyler family came from Sussex England in. It is believed their names were William and Mary Tyler. It is thought they had son born in 1666, his name was Samuel Tyler.
 In 1685 Samuel had a son by the name of Ebenezer. Ebenezer died in 1736. Ebenezer was married to Catherine Bragg. She was born in 1690 and died in 1763.
   They had a son John Tyler 1. He was born in 1724 and died in 1794. John Tyler 1 married Anna Blackington. Anna was born in 1722 and died in 1793. John and Anna had a son John Tyler 2nd. He was born in 1746 and died in 1822.
     He married Mercy Thacher. Mercy was born in 1749 and died in 1835. John and Mercy had a son John "Isaac" Tyler born in 1771 and died in 1825.
    Isaac married Mary L. "Polly" Barnett. She was born in 1776. Isaac and Polly had a son William B. Tyler .
   William was born in 1795 and died in 1834. He married Cathrine Adkison July 17,1822. Cathrine was born in 1804 and died in 1866.William and Cathrine had a son Isaac. Isaac B. Tyler was born in 1829 and his sister Sarah was born 1823.